Named 'Documentary Of The Year 2001' by Ireland's Sunday Tribune, Sé Merry Doyle's 'Alive Alive O - A Requiem For Dublin' is a one-hour documentary journeying deep into the psyche of Dublin Street Traders and chronicles how an extraordinary culture becomes increasingly overshadowed by the scourge of heroin, the closing of marketplaces and a city that has sold its soul.

Broadcasted on RTE 1 on the 4 September 2001, the film was premiered at the Cork Film Festival and has since won an award at the Galway Film Fleadh as well as being screened at the Bilbao Film Festival - Spain, the Berlin Ethno Film Festival in Germany and the recent documentary festival held in the Irish Centre in Hammersmith, London.

Since its first screening, the documentary has earned critical acclaim with enthusiastic reviews from various newspapers including, The Sunday Tribune, The Sunday Independent, The Irish Times and Peter Lennon of the English Guardian as well as various cinematic publications.

Shot in stages over many years, the documentary contains rare archive including glimpses of a young U2 as they play an inner-city benefit concert to a Sheriff Street audience as well as capturing maverick politician Tony Gregory around the time he went to jail because of his support for the Traders of Dublin's famed Moore Street.

As we watch the destruction of areas such as Sean McDermott Street and Gardner Street, 'Alive Alive O - A Requiem to Dublin' could be construed as a grim reminder of all we have so carelessly discarded in the heated pursuit of a glitzy new city.

However, equally important to the film, is the portrayal of the staunch character and true-grit of the inner-city "Dub", the tragic nature of which is enhanced by the haunting narrative of poet Paula Meehan and the voice of Frank Harte as he sings some of Dublin's best known traditional ballads.

Quotes: The poems of Paula Meehan, the songs of Frank Harte, the old photographs, the film clips from different times, different place - it all gelled beautifully. This was an important film. I could go on and about clichéd titles but at the end of day its what a film says that counts. And this said lots. It isn't too late to save at least some of the heart of Dublin. Glass buildings wide thoroughfares, posh hotels and trendy bars don't make a city. People do. And Sé Merry Doyle made that point very, very well indeed. - The Sunday Times

Click >>> HERE <<< to read the full review.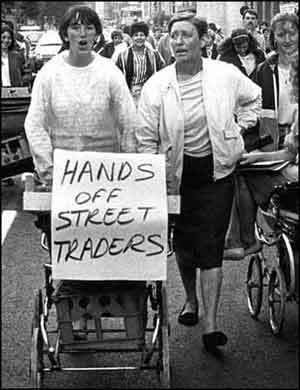 Director: Sé Merry Doyle
Producer: Bernadine Carraher
Co-Producer: The Arts Council of Ireland and the Irish Film Board
Photography: Donal Gilligan, John T. Davis, Michael O'Donovan
Editor: Sé Merry Doyle
Script: Paula Meehan
Narration: Jasmine Russell
Research: Oda O'Carrol
Music: Ger Kiely
Traditional Songs: Frank Harte
Location: Ireland
Format: 16mm and Digi Beta
Running Time: 1 x 52mins
Year Made: 2001

Festivals: Dublin Film Festival, Cork Film Festival, Galway Film Fleadh, Ethnological Filmfest - Berlin, Bilbao Film Festival
Transmission: RTE
Award: 'Documentary Of The Year 2001' by Ireland's Sunday Tribune

Sales Company:
Loopline Film, 106 Baggot Lane, Dublin 4, Ireland
t: +353-1-6676498 / 6627
f: +353-1-6676604
e: info@d1079532.cp.blacknight.com/htm

Suggestions for broadcasters: The fact that this film takes its title from the song about Dublin's most famous woman 'Molly Malone', immediately opens the door for viewings in countries with large Irish communities. The film would sit neatly on schedules set around Saint Patrick's Day or a strand that looks at the demise of traditional communities suffering against a background of spiralling commercialism. The film could also be re-edited to suit broadcasters needs.

Alive Alive O
Medium Quality Clip (784Kb)
High Quality Clip (1.7Mb)
Top Quality Clip (2.9Mb)

If you experience any problems with picture or sound quality please download the latest (Mac or PC) version of Quicktime.
L o o p l i n e---F i l m ,---9---L a d---L a n e ,---D u b l i n---2 ,---I r e l a n d